Read Our

Latest News
Prize Day 2017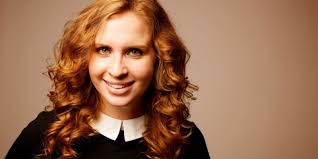 PARALYMPIC swimmer Kate Grey inspired Colston's Girls' School students and staff at the annual Prize Day with the story of her triumphs over adversity.
Kate, 28, lost a hand in an accident on her family farm when she was two years old - but she has not let the disability hold her back in her schooldays or since.
She told the audience at the event, held for the first time at Bristol Hippodrome, how she struggled for years from the age of four to learn to swim, as she kept going round in circles.
"I was a rowing boat with one paddle" she said. "I didn't enjoy it, but I learned resilience; I didn't give up.It wasn't about being the best at everything, it was about being the best version of myself."
Having learned the skill, Kate took part in her first disability swimming competition - and was hooked. This led to daily training sessions, national competitions and eventually the Paralympics in Beijing, where she just missed out on a medal.
By 2011, Kate was Number 1 in the world and had her sights set on the London Games in 2012. Despite having glandular fever, she took part in the trials, but missed qualifying by half a second.
"I felt every decision I had made, everything I had given up, was all for nothing," she said.
But a surprise call from the BBC changed the direction of Kate's life again. She was invited to commentate on the Paralympics and then to take part in a training scheme to become a sports reporter, a role she still combines with work as a mentor for the Youth Sport Trust.
She told the CGS girls that she had had two ambitions when growing up: to win a Paralympic medal and to become a PE teacher. Despite having achieved neither, she no longer considered herself a failure,
"You can find success in many different areas of your life," she said. "Always set yourself goals - but if that doesn't quite go to plan, the journey will take you into many amazing and even better opportunities."
John Whitehead, in his first Prize Day as Principal, spoke about the success of the new house system at CGS in which each was named after a strong woman: Jane Austen, Anne Frank, Marie Curie, Amy Johnson and Rosa Parks.
"All these women were compelling individuals in completely different ways," he said. "They cared about the world. They showed resilience. They had to stand up to prejudice and discrimination. They all felt a responsibility to stand up for other people. They respected people who did not have what others have.
"I am absolutely convinced that you young people can make a similar impact to these amazing women."
Dozens of students received prizes. Emma Hilton was awarded the Principal's Prize for Achievement; Ellis Denney the John James Award for Outstanding Achievement; and Madawah Odeh the Merchant Venturers' Leavers Prize. A new house prize in memory of Tatiana Stankovic Davis went to Lucy England.