cgs REVEALS NEW NAME - MONTPELIER HIGH SCHOOL
31/3/2020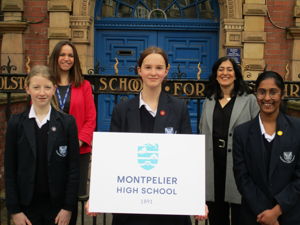 Photo caption: Kerry McCullagh (back row, left) and Suffia Khanan (back row, right) with students (L-R) Jasmin Jamieson, Hazel Anderton and Anna Raju.
6/11/2020
Colston's Girls' School Reveals New Name
6/10/2020
Click Here for CGS Name Change Consultation Result - 6 October 2020
Thank you for taking the time to engage with the important decision that the students and staff of Colston's Girls' School and V6 Sixth Form will make in October 2020 – whether to keep or change the name; and if we decide to change the name of our school, what our new name will be.
The consultation process has been developed to ensure that all views expressed through the questionnaire will be taken into account. The final decision on whether to keep or change our name will be made by the students and staff of CGS and V6 (academic year 2020-2021) in a democratic vote.
Introduction
By inviting members of the community to participate in this consultation our students will be able to consider the debate from all sides before they cast their vote. Many people in Bristol feel very passionate about whether statues should be removed and names changed, and we respect that there is a broad spectrum of views.
Through the curriculum, CGS students learn about historical events that have shaped the world we live in and they are encouraged to consider their own roles and responsibilities in shaping a better future for everyone. The format of the consultation will allow CGS students to experience the democratic process first-hand and they will be encouraged to develop the core skill of critical thinking. To read about the history curriculum at CGS, click here.
130 students volunteered to play a hands-on role in this project, several of whom have been invited to take on leadership roles in the development and delivery of the consultation process, where the skill of listening, the importance of being heard and the responsibility for making a decision are crucial components.
Through the curriculum, alongside real-world experiences and opportunities, we aim to provide students with skills for life and the confidence to use their own voice as a powerful tool to influence change. As a school community we believe that if you work hard you can succeed, and that you must take the time to be kind to yourself and others.
Guided by our school core values of respect, responsibility, curiosity and resilience, CGS students have taken a collaborative approach to designing an open consultation process to encourage city-wide engagement in helping us to decide whether to keep or change the name of our school.
Background
Process & Timeline
Research Materials & Resources
Consultation Questionnaire
Looking to the Future